Opening oysters
1. Position your thumb 1 cm from the end of the blade
2. Push your knife into the muscle
3. Cut through the muscle
4. Lift and remove the upper shell
Watch the oyster opening video

Some delicious oyster recipes
All these recipes come from www.huitresmarennesoleron.info (French)
Click here to view more recipes at huitres.com (French)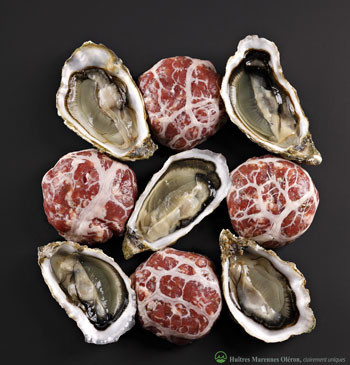 Huître Marennes Oléron with crépinette sausage
Serves 2
→ 1 crépinette per person or 2 chipolata sausages
→ 10-12 Marennes Oléron oysters
As a starter: size 4
As a main course: size 3 or 2
At Christmas in the south-west of France, the local sausage known as crépinette is considered the finest accompaniment to oysters. If you can't get hold of this delicacy, you can use your preferred chipolata sausages.
Fry or grill the sausage and dry on kitchen paper.
Serve the crépinette on a separate plate to accompany your dish of oysters. Chipolatas can be served the same way or finely chopped and sprinkled on each oyster just before eating. Our recommendation of oyster: The Pousse en Claire Label Rouge Marennes Oléron oyster brings a wonderfully fleshy texture to this original marriage of flavours. Using the Fine de Claire Verte Marennes Oléron oyster creates a more contrasted association of flavours between land and sea.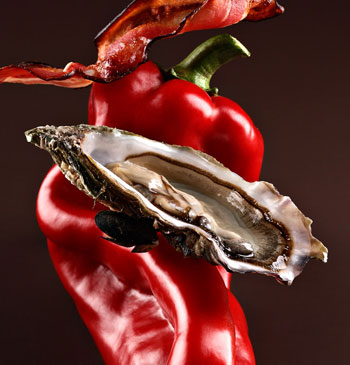 Roasted red peppers and bacon
Serves 2
→ 2 red peppers
→ 3 rashers of smoked streaky bacon
→ 10-12 Marennes Oléron oysters
As a starter: size 4
As a main course: size 3 or 2
Wash and de-seed the peppers, slice thinly, and roast gently in a little olive oil.
Fry the streaky bacon in a frying pan over a low heat.
Just before serving, remove the bacon and leave to rest on kitchen paper.
Cut each rasher into small squares. Take your Marennes Oléron oysters, cutting through just the small muscle and leaving them in their shells. Drain the water from the Marennes Oléron oysters before serving, and add the warm roasted peppers and squares of bacon.
Recipe: A.CIRELLI – Y. LECLERC L'événement Culinaire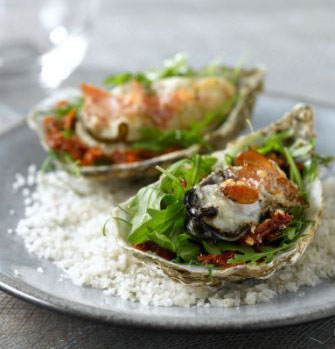 Parmesan gratin oysters on a bed of rocket
Serves 2
→ 12 cupped oysters (size 2)
→ 30 g rocket
→ 3 thin slices of cured ham
→ 100 ml crème fraîche
→ 20 g grated Parmesan
→ 6 sundried tomatoes
→ 1 teaspoon balsamic vinegar
→ Freshly ground pepper
Pre-heat the oven to 200°C. Meanwhile, open the oysters. Cut through the muscle to remove them and discard the water.
Finely slice the sundried tomatoes and ham. Combine the rocket and balsamic vinegar in a bowl.
Embed the empty shells in coarse sea salt on a gratin plate. Spoon a little crème fraîche into each shell. Cover the crème fraîche with a few rocket leaves, the sun-dried tomatoes, the shelled oyster and the thinly sliced ribbons of ham.
Add freshly ground pepper, sprinkle with Parmesan and bake for 12 to 15 minutes in the middle of the oven. Serve immediately.
Photo and recipe: Philippe Asset