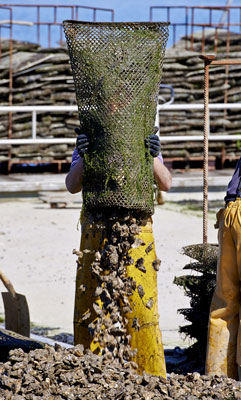 Technique and tradition.
From its bases in Marennes Oléron in the Charente basin, the Bay of Quiberon, the Gulf of Morbihan and the River Trieux in Northern Brittany, Bechemilh-Lauby produces an average of 250 tonnes of oysters every year. Every day, it succeeds in the three challenges of extending its expertise, increasing the already exceptional quality of its traditional oysters, and driving innovation with its exceptional cupped and flat Les Belles de Cordes® oysters.
Uniting family tradition, meticulous production and technical performance, Bechemilh-Lauby oysters combine the virtues of their natural environments (former saltmarshes, sheltered bays, extremely rich marine nutrients, etc.) with experience amassed throughout its history. With classics like 'Fines et Spéciales de claires', 'Label Rouge IGP Fines de claires vertes' and 'Pousse en claires', and from production through to marketing and real respect for tradition, Bechemilh-Lauby oysters offer a range of unforgettable characters and flavours.